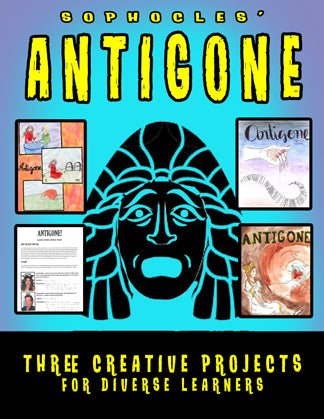 Creative English Teacher
Antigone Projects Bundle: Three Creative Project Options for Antigone by Sophocles
Looking for a fun way to wrap up your study of the ancient Greek tragedy Antigone by Sophocles? This creative project gives students three different ways to analyze the play--either humorously or seriously. Two options allow students to harness their artistic and creative talents, while the third focuses mainly on writing.
 Option 1: Antigone! the Musical

 

Create a musical film version of

 

Antigone

 

starring modern actors. Using the provided instructions and worksheet, students cast their film by pasting pictures of their favorite celebs onto the project worksheet. Then they come up with humorous titles for songs that the musical would feature. Finally, they design a movie poster or album cover.
Option 2: Anitgone Disney Style

 

Antigone is technically a princess, right? What if she were a Disney princess? Using the provided instructions and worksheet, students tell the story of

 

Antigone Disney-style, complete with an animal sidekick and show-stopping songs.
Option 3: Five Essay Prompts

 

Students who prefer a more traditional project can write an essay connecting the play to their own life. This

 

Antigone Essay

 

features five different prompts.
This .ZIP file download includes all three project options as PDFs as well as sample projects!
---
More from this collection