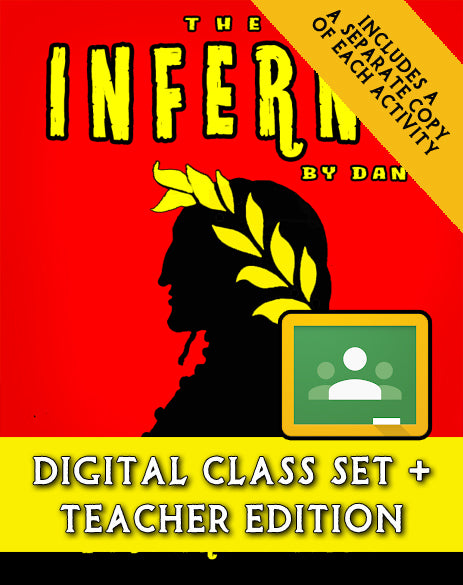 Creative English Teacher
The Inferno: A Reader's Theater Script-Story Collection (Digital Class Set)
About Digital Class Sets:  This download is perfect for teachers who use a digital classroom platform such as Google Classroom or Canvas! This download includes all of the following:
A digital copy of the original textbook

Individual digital copies of each script-story and activity for posting online

Digital sharing rights for a single teacher  
Note:  This download is a ZIP file. Please double-check that your operating system can unzip this type of file before you purchase it. To prevent piracy all documents are protected with the same easy-to-remember password.
For the original textbook download, click here.
Description:  Teach the heck out of Inferno! Dante's epic journey through Hell is filled with horrifying and fascinating sights. Although the Inferno is the perfect text to nab your students' interest, it still proves to be a difficult and daunting read for many students. Use this Reader's Theater script-story adaptation of the Inferno to bring the afterlife to life! Teach the scripts on their own (they cover the full Inferno) or use them in conjunction with the original text to build interest and increase comprehension. The classic poem is broken into five script-stories, each with its own 2-page teacher guide for teaching important terms and relevant background. With this 96-page download you can print the materials directly from your computer!
Check out our sample pages to see if these scripts will work in your classroom! Click here to see a sample of the product!
This download includes all the following materials:
Five script-stories (approximately 30-50 minutes each) that dramatize the full text of Dante's Inferno
Three worksheets that feature reading passages from Dante's poetry

"Dante's Love for Beatrice" from La Vita Nuova
"Francesca and Paolo" from Inferno
"Count Ugolino's Lament" from Inferno

Student reading guides (complete with keys) for each of the five scripts
Teacher guides for each of the five scripts with relevant background information, story summary, essential questions, connections, teachable terms, discussion questions, and recall questions
---
More from this collection