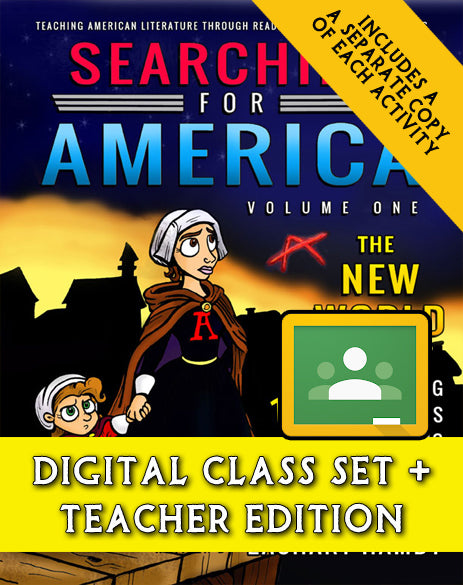 Creative English Teacher
Searching for America, Volume One: The New World (Digital Class Set)
About Digital Class Sets:  This download is perfect for teachers who use a digital classroom platform such as Google Classroom or Canvas! This download includes all of the following:
A digital copy of the original textbook

Individual digital copies of each script-story and activity for posting online

Digital sharing rights for a single teacher  
Note:  This download is a ZIP file. Please double-check that your operating system can unzip this type of file before you purchase it. To prevent piracy all documents are protected with the same easy-to-remember password.
For the regular digital version of the textbook, which includes the teacher pages, click here.
Searching for America:  Have you ever wanted to teach a thorough survey of American Literature but could not find the time? Searching for America takes some of America's greatest works of fiction and non-fiction and adapts them into Reader's Theater script-stories. Now classic texts such as The Scarlet Letter can be experienced in a whole new way!
Volume One:  The New World  Volume One of Searching for America contains 11 script-stories which dramatize fiction and non-fiction selections:
"The Flying Canoe" (Native American myth)
"Gluscabi" (Native American myth)
"The Explorers of the New World"
"Mayflower: The Voyage of the Pilgrims"
"The Journey of Olaudah Equiano"
"Captured by Indians: The Narrative of Mary Rowlandson"
"The Courtship of Miles Standish"
"The Scarlet Letter: Part I"
"The Scarlet Letter: Part II"
"The Scarlet Letter: Part III"
"The Scarlet Letter: Part IV"
Bonus Activity:  New World Colony-building interactive classroom strategy game

Details:  161-page PDF download
Samples:  To view free materials that supplement this textbook as a well as a sample script-story "The Scarlet Letter: Part I" click here.
Print Version:  For a print version of the same textbook click here to visit Amazon.com
---
More from this collection